A Career in Computer Programming
This is a (mostly) non-technical account of the joys of computer programming, diverse working environments, and my education in the social skills needed to thrive in those different environments. My career spanned 44 years. During that time I plied my trade in a small startup, several small business, a general partnership, a sole proprietor, and finally as an employee in a international fortune 500 company. I describe the different cultures I encountered while working in these businesses.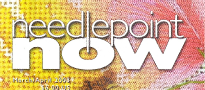 This is an article I wrote for the March/April 2003 issue of Needlepoint Now magazine (Volume V No. 2). In it I describe my motivations, and major design approaches for all of my needlepoint projects.